Big Block Chevrolet

Blocks & Cranks

Complete Engines

Fuel & Injection

Bolt-On Accessories

Internal Parts & Accessories

Crank Hubs & Supports

Degree Wheels

Blower Hubs

KB Olds New Century Performance

Magneto Drives & Parts

Gear Drives & Front Covers

Blower Manifolds

Gaskets

Valve Covers & Oil Pans

Rods & Pistons

Headers & Exhaust Parts

Arias Hemi Chevy cylinder heads includes: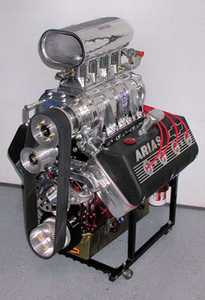 1 pair of cast aluminum Hemi Chevy cylinder heads completely assembled with premium Stainless valves, seals, springs, retainers & locks, 2 pair of Rocker arm assemblies with billet rocker stands, heat treated rocker shafts, heat treated intake rocker arms with needle bearing tips included with tool steel adjusters. 1 set Manton push rods with tool steel tips 1 pair cast alum. valve covers & breathers 1 set spark plug tubes and seals 1 pair of steel header flanges 1 cast alum intake manifold (blower or carb.) 1 cast aluminum valley cover gaskets for heads, valley cover, hardware for cylinder heads valve cover and breathers Cylinder head kits assembly and dyno tested
$18900.00
739 hp. @ 6500 rpm with a 1-1 street blower and 3 pounds of boost!